Jasmine Cottage Garden - 2017 onwards

26 Channel Road
Clevedon, Somerset
BS21 7BY
---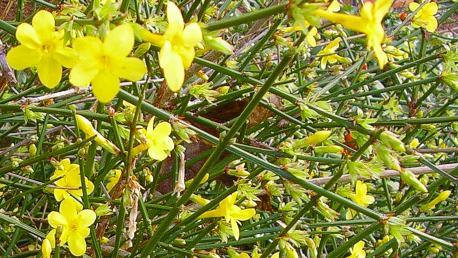 After 28 years of opening for The National Gardens Scheme, we have now shut the garden.
You may still tour the garden virtually by following the links below.


Our garden near the Bristol Channel enjoys a fairly mild climate although it is quite windy. The soil is a free draining loam with a neutral pH. which requires the addition of plenty of humus each year to keep it in good heart. The third-acre plot which had been part of a larger garden, first had to be reclaimed from the self sown saplings of Sycamore and Ash and the tangle that ivy and old man's beard had produced. Over the years we planted evergreen hedges for shelter, trees and shrubs for wildlife and ourselves to enjoy, dug beds and borders and filled them with our favourite plants.

We grow many plants from seed and cuttings to provide the garden with colour and scent. These include lots of tender perennials, several unusual climbers as well as annuals to fill the gaps, old fashioned sweet peas for cutting and display and many different salvia species.



---